It hit 40 degrees today. Summer's only a couple days away and I start my clerkship tomorrow. Hopefully it's not that hot this week – nothing worse than going home in a crowded, humid bus on sticky vinyl seats. I'm working a three-day week, not sure which days yet. The other two days will be spent with Shan and Fi working on the space moot, unfortunately most of that time will probably be in the library. The uni gave us 24 hour access to the law library and I went up there late at night during the exams a couple weeks ago for a change of environment. It's pretty eerie there at 1am – it's dead silent because the airconditioning switches off after hours – but it's also kinda cool how the place is deserted, no distractions and all that. Except for the distraction of Dave lasciviously ranting on about all the KASI SIKIT action you could get in a deserted library (sorry, injoke).
The Dolls
Which reminds me. On the way back from another late night Maccas runs, we drove past the Creepy Doll again, just for kicks. When I pulled up alongside the house, the doll was dangling off the clothesline as usual, but my heart skipped a beat when I realised that there was the silhouette of a person sitting down on a chair underneath the doll, its eyes staring back at me. We freaked out, I hit the accelerator and we were off.
I drove by the house the next day and snapped a photo:
You can imagine how unsettling that would look at night in the shadows, this row of dolls staring out into an alleyway at passer-bys. Why would someone do something like that???
Wanderlust
I always get the travel bug during exam times. Procrastination takes me to a bunch of travel blogs which make me wish I was somewhere far away. Parents leave for Singapore, Egypt and Taiwan in the week after next. Unfortunately, I'm stuck here, but at least there's Beijing for me in January, which apparently is getting bloody cold:
Beijing is getting bloody cold. Forecast for snow today, but as yet has not started, but the wind is worse than when we were in Vienna, and all the locals laugh at me when I ask whether this is normal… ominously they say that this is nothing, and the best is yet to come. Apparently the worst is February, so when you come in January, be prepared.
Next Year
On the topic of travel, current plans are to finish my degree in the first half of next year and spend the remainder of it travelling. Don't know where yet, but I'm happy as long as it's somewhere I haven't been before. Don't know with who, but I've got a couple of friends who are interested. Anyone else free at any point during the second-half of next year who's interested? E-mail me.
And now for something completely different
Sighted at last night's birthday party: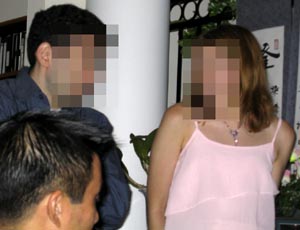 Photo courtesy of Papparazzi Dan.