Observations
Merry Christmas! I hope you are enjoying a nice long holiday weekend with your friends and family. Just a short update this week. Next week I'm planning to do a Year In Review.
Sam Bankman-Fried is hosed. Earlier this week, he agreed to be extradited back to the States. Bail was set at $250M, which means that anyone who's willing to post bail for him (i.e. his parents) will basically be bankrupted if he skips town. His co-founder Gary Wang and Alameda CEO Caroline Ellison both pleaded guilty to various criminal counts and are cooperating with authorities in their criminal and civil cases against SBF. More of his former associates are expected to flip. Hard to see how he doesn't get put away for a long time.
A perpetrator claims to have obtained the data of 400+ million Twitter users through a vulnerability.
Reviews
Frozen: The Musical. We took our daughter to see this at the Orpheum (her first musical!). Frozen is a phenomenon and not easy source material to adapt for the stage, so I was curious to see how it would play out. The result is a musical that shines at moments, but otherwise lacks the dynamism of its animated compatriot. There are a variety of new songs that were created just for the musical (written by the original music writers), but none of them were memorable. It all felt like filler music, lacking any tunes that really catch. The performance of a new song called Hygge stuck in my mind, but I can't recall the melody at all.

The most authentic response was probably looking at how our daughter reacted. Like probably every other child (and parent) in the audience, she has watched Frozen dozens of times, and has made us play the soundtrack in the car at least several hundred times (I have the Spotify stats to back that up). Our daughter was completely enthralled with the major set pieces: Do you want to build a snowman?, For the first time in forever, Love is an open door and, of course, Let it go. The way young Elsa and Anna were portrayed were a delight. But Frozenfront-loads all its big musical pieces, and as the second half dives deeper into a darker story, her attention started to wander. She seemed bored with the new songs and I wonder what was going through her mind when they replaced the cute rotund trolls with "hidden folk" — essentially wildlings in rags. I think they did the best that they could, but the movie is a tough act to follow!

Trivia: Frozen is set in Norway, but the movie's is loosely based around Danish author Hans Christian Andersen's The Snow Queen (Snedronningen).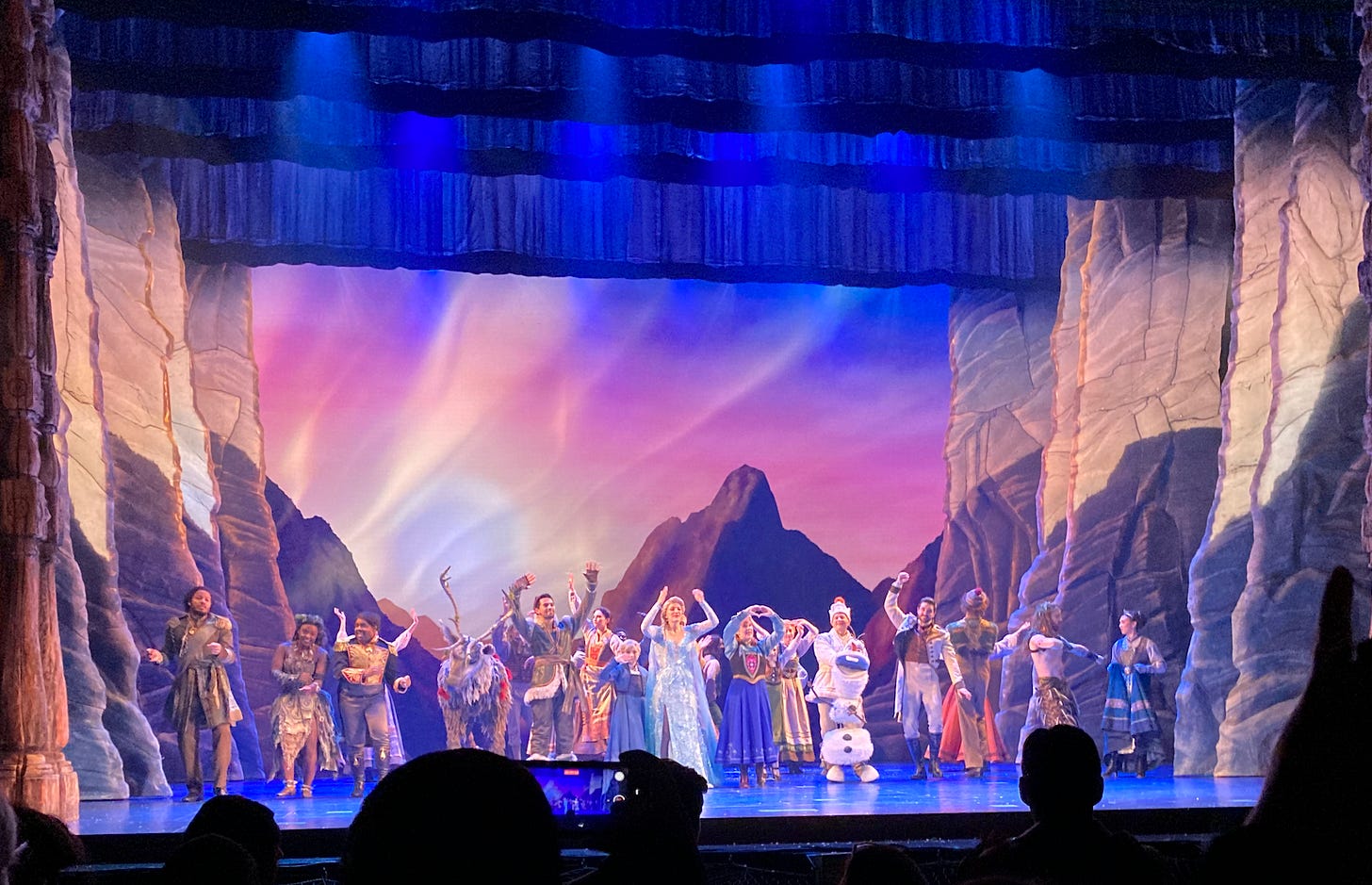 Articles
Charts, Images & Videos
On Twitter