Observations
Blackout
In a previous newsletter, I mentioned we have a lengthy power outage on average once per quarter. That's not an exaggeration. This week, we endured our longest outage yet.
At about 1pm on Tuesday, our power went out and didn't come back until Thursday evening — more than 50 hours later. It all happened as unusual weather arrived in Bay Area, with several inches of snow falling at altitudes of as low as 250 feet. It basically never snows in the Bay Area. Less than 5 miles away in Woodside, the scene looked like this:
We didn't get snow, but our area was buffeted by gale force winds that uprooted large trees, crushing power lines and transformers.
Within a few hours, power was out across swathes of Redwood City, Woodside, Atherton, Menlo Park, Palo Alto, East Palo Alto, and Stanford.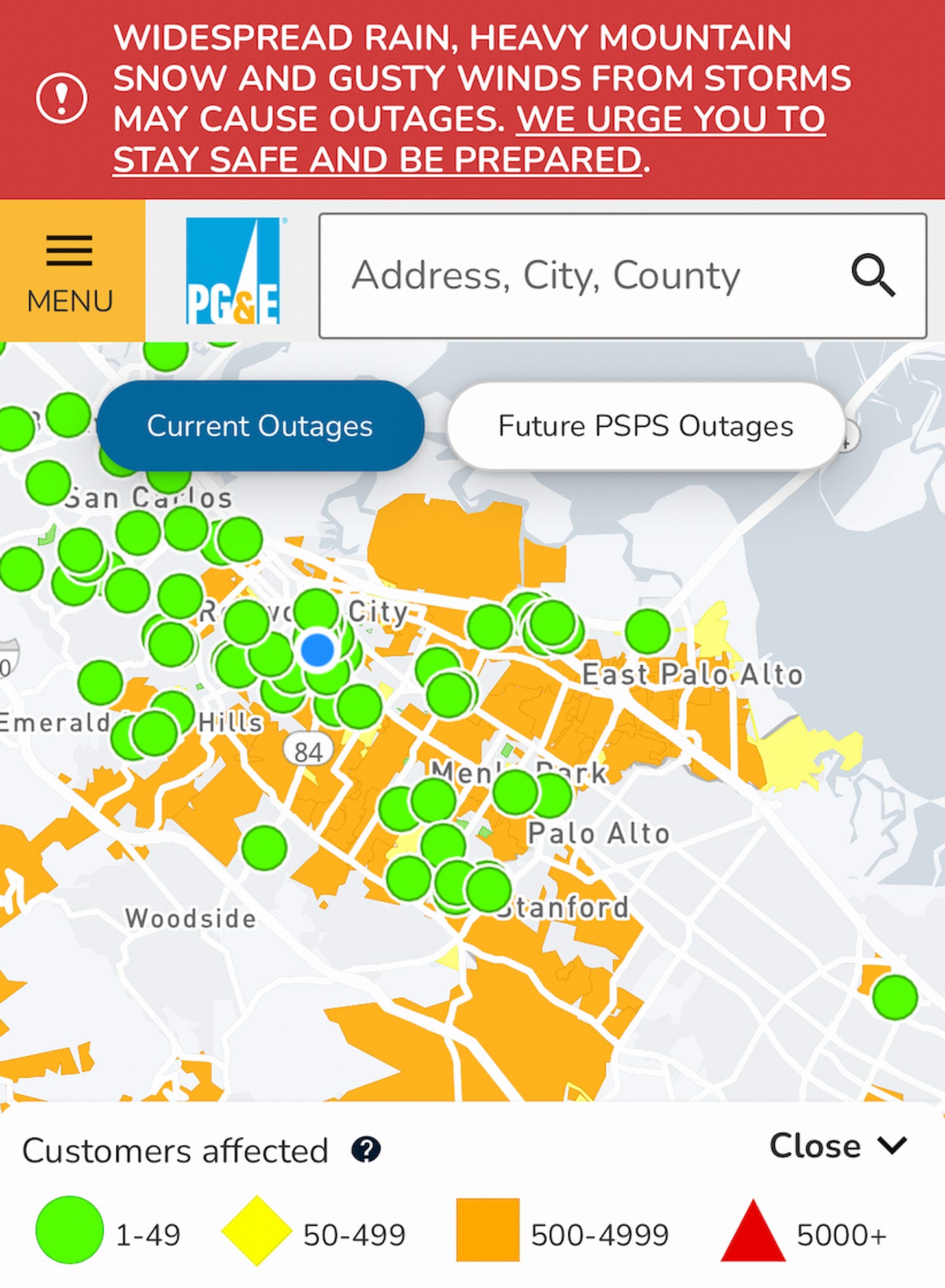 We ended up staying in hotels for 3 nights. The hotels were filled with locals — mostly families with young children and older people carting along oxygen containers.
At the first hotel, a Holiday Inn, we were offered a welcome bag of snacks at check in. "The robot will deliver them to your door," the guy at the counter said, pointing to what looked like a trash can on wheels in the corner. I won't lie — it was the most Silicon Valley thing ever, and I was more excited about it than was rational.
Some time after we got settled into the room, we got a call from the front desk. "The robot is outside your door." I opened the door and there sat the robot. It did nothing. The screen on top of the robot featured two blinking eyes, with a speech bubble above in which was written "None."
We stared at each other for a bit. After poking and prodding at the thing, I finally determined it wasn't working, and called up the front desk. They fiddled with a few things on their end to no avail.
"We're going to reset it and try again."
Reset meant that someone had to come up to our room and manually wheel the robot back to its base. A few minutes later, the robot showed up at our door again. The result was not different.
"Again?!" an exasperated voice from the front desk said after I called them. And once again, they had to "reset" the robot.
Finally, the front desk clerk showed up at our door, his arms overflowing with snacks and beverages. "Sorry about that — we're having uh, technical issues. I got you some extra things."
Gradually, the power started to come back on in various places. We noticed that power in the most affluent areas was restored first — Atherton, Woodside, Palo Alto — while Redwood City and East Palo Alto were out of luck for hours longer. Maybe a coincidence, but we have our suspicions.
The most annoying part of the outage was all the food we had to throw out from our fridge and freezer.
The Rewriting of Roald
I entered Year 3 as a 7 year old, and some of the classroom memories I retained from that year include:
My teacher read to us The Hobbit and The Lion, The Witch and The Wardrobe, which was the first time I was exposed to fantasy and set in motion a lifelong affinity for that genre.
He read to us The Great Piratical Rumbustification and proceeded to put the last three words of that title on the next week's spelling test.
He read to us Charlie and the Chocolate Factory, my first Roald Dahl book. During the course of primary school, I followed up by reading most of the rest of his novels, as well as his autobiographical Boy and Going Solo.
He was telling us about what to bring to an excursion to the mangroves of the newly-opened Bicentennial Park and mentioned we should bring "several drinks". I thought that meant seven drinks, which seemed like quite a lot to me. I put my hand up. "Sir, do we have to bring several drinks?" He looked confused and said, "Well, you don't need to but I would recommend you do." I was satisfied that I wouldn't get into trouble if I didn't bring seven poppers and it was not until much later that I learned what "several" really meant.
In hindsight, many of those memories involved books, which brings us to the topic of Roald Dahl. Dahl is best known for his children's novels, although he also had a repetoire of adult writing. His books were formative to me growing up. Last week, it was reported that Dahl's books would be rewritten to remove language "now deemed too offensive".
The laundry list of changes includes describing Augustus Gloop as "enormous" instead of "fat" (?!), removing many instances of "white" and "black" as descriptors in non-racial contexts (such as where you might describe a "face going white" for when the blood drains from the face in fright), and excising any mention of Joseph Conrad or Rudyard Kipling and replacing them with Jane Austen and John Steinbeck. One can only surmise that the associations of Conrad and Kipling with colonialism have been deemed too painful to tolerate.
The changes are reminiscent of a "Harmful Language" list that was published by a group within Stanford University. As that list would have it, words like "brave", "tribe", "abort", "stupid", "victim", "immigration", "submit" and "American" were considered harmful. The list was widely pilloried, and the university swiftly had it removed.
Online, it would appear that the changes to Dahl's books are facing a similar backlash. This Reddit post is basically filled with people who are screaming "nobody asked for this". In fact, one of the only negative comments I came across online was a one-star review that someone left 4 years ago for a 16-book collection of Dahl's writings sold by Costco: "I bought this excited to read Charlie and the Chocolate Factory and the rest of the books with my kids. Then we got into the Great Glass Elevator, which has a chapter devoted to totally worn out racist tropes that made me stop reading."
They're not wrong about the racist tropes. Check out this passage from Great Glass Elevator:
The President threw the phone across the room at the Postmaster General. It hit him in the stomach. 'What's the matter with this thing?' shouted the President.
'It is very difficult to phone people in China, Mr President,' said the Postmaster General. 'The country's so full of Wings and Wongs, every time you wing you get the wong number.'
'You're not kidding,' said the President.

…

The President again picked up the receiver.
'Gleetings, honourable Mr Plesident,' said a soft faraway voice. 'Here is Assistant-Plemier Chu-On-Dat speaking. How can I do for you?'
'Knock-Knock.' said the President.
'Who der?'
'Ginger.'
'Ginger who?'
'Ginger yourself much when you fell off the Great Wall of China?' said the President. 'Okay, Chu-On-Dat. Let me speak to Premier How-Yu-Bin.'
'Much regret Plemier How-Yu-Bin not here just this second, Mr. Plesident.'
'Where is he?'
'He outside mending a puncture on his bicycle.'
'Oh no he isn't,' said the President. 'You can't fool me, you crafty old mandarin!'
It just goes on and on, doesn't it?
As a child of the 80s of oriental persuasion, I am acutely aware of racism and being bullied in the playground for how my eyes looked as a "fucking ching chong chinaman".
But I don't think rewriting old works is the right thing to do. This is the progressive equivalent of censorship, and not much better than the troubling wave of book banning in more conservative parts of America.
History can be a great teacher, and only if you are aware of what happened in the past can you learn from it. Changing Dahl's words is kind of like attempting to avoid history because it's too painful, and seems similar in vein to avoiding teaching about the Holocaust in school.
Older books are products of their times and make good discussion points. I think it's better that a child stumbles across the phrase "queer ramshackle house", gets confused, and asks an adult how a house can be gay. That can spark a useful conversation.
It doesn't seem much different to studying Shakespeare, where there are a lot of confusing, archaic words and phrases that high school students spend hours scratching their heads over. And I'm not sure that reading Shakespeare perpetuates the use of those dated terms.
I am far more fearful about what my kids will find online, than in a book from centuries past. I am more fearful about what text-generative AI might mean for critical thought and disinformation.
The other thing is, and this is perhaps controversial, is that there is a time and a place for ethnic stereotypes, and that is comedy. There's a reason why Russell Peters' jokes about Chinese and Indians (and everyone else) are so hilarious, and that we find Colin Jost reading out Michael Che's jokes about black people funny. That comedy is only funny if you're aware about those stereotypes in the first place.
I think the approach taken by Warner Bros. is the right one. For some of their older cartoons, they now display the following disclaimer at the start:
The cartoons you are about to see are products of their time. They may depict some of the ethnic and racial prejudices that were commonplace in American society. These depictions were wrong then and are wrong today. While the following does not represent the Warner Bros. view of today's society, these cartoons are being presented as they were originally created, because to do otherwise would be the same as claiming these prejudices never existed.
Articles
Movies & TV
Black Panther: Wakanda Forever (Disney+)
I fell asleep midway through, so not that great. The first one was better. 2/5.
Only Murders in the Building (Season 2)
This whodunnit series, featuring the unusual but endearing combination of Steve Martin, Martin Short, and Selena Gomez has really grown on us this season. It's got a really random brand of humor that we like. We're looking forward to Season 3, which is going to feature Meryl Streep and Paul Rudd. 4/5.
Hotels
Holiday Inn Redwood City (Redwood City, CA)
Where we stayed for the first night. A standard, no frills hotel room. Clean and relatively comfortable.
Residence Inn Redwood City (San Carlos, CA)
This place was surprisingly good, and actually a great place to stay if you are a business traveler. All rooms have a kitchen, two large tables, and are clean, spacious, and well appointed. There's also a laundry on site. The breakfast is not bad.
On Twitter