Observations
The Debt Ceiling
The Republicans are playing chicken with the debt ceiling again. It's a travesty how the system works here – namely, that the budget is approved by Congress first, and then as a separate step, Congress has to approve raising the debt ceiling so that the U.S. Treasury can issue new debt to pay for the spending that Congress already approved. This process is almost unique in the world. (Denmark is the other country that works this way, but they don't practice brinkmanship over there.)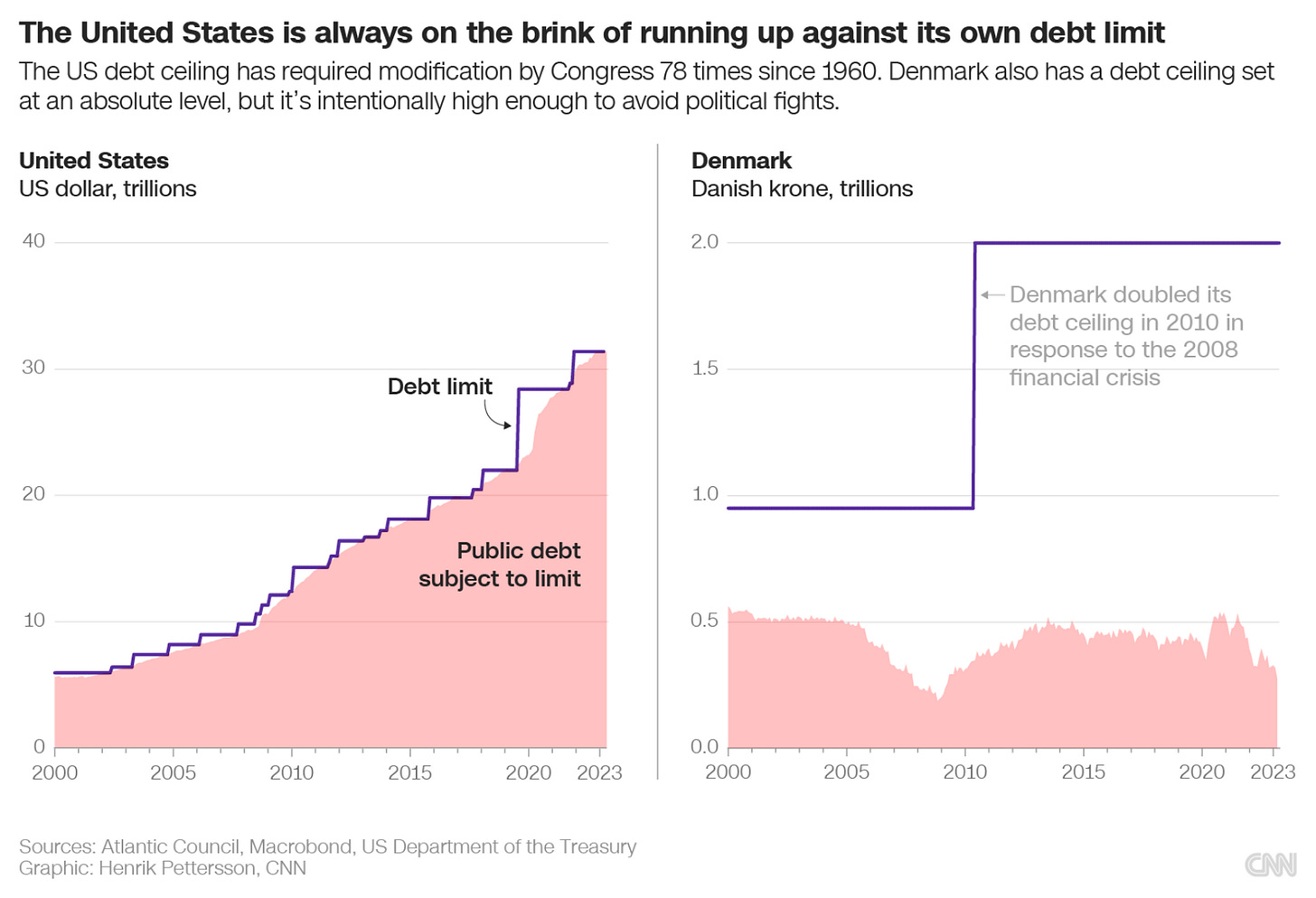 It's almost impossible to imagine Congress actually taking things over the precipice, but no one is 100% absolutely sure that won't happen, even though the consequences would be catastrophic if the U.S. were to default on its debt.
"X-date" is the deadline where the government effectively runs out of money. It fluctuates because it depends on day-to-day tax revenue collected and spending, but "as early as June 1" is the guidance that the Treasury has given.
Interestingly, the market is not reacting like it did in 2011, staying relatively buoyant despite June 1 being a little over a week away. This means the market is expecting things will be resolved before x-date. It has been observed that this means that insurance against a debt default is selling for cheap. This insurance comes in the form of put options on the S&P index (via an S&P index ETF), or alternatively call options on the price of gold or against the VIX (volatility index).
One potential solution to the crisis, where the U.S. Mint mints a $1 trillion coin and deposits it in the Federal Reserve's Treasury account, has been taken off the table by Treasury Secretary Janet Yellen. As explained by Wikipedia: "The concept of striking a trillion-dollar coin that would generate one trillion dollars in seigniorage, which would be off-budget, or numismatic profit, which would be on-budget, and be transferred to the Treasury, is based on the authority granted by Section 31 U.S.C. § 5112 of the United States Code for the Treasury Department to "mint and issue platinum bullion coins" in any denominations the Secretary of the Treasury may choose. Thus, if the Treasury were to mint one-trillion dollar coins, it could deposit such coins at the Federal Reserve's Treasury account instead of issuing new debt."
Further Observations
Articles
Charts, Images & Videos
Look at that inverted yield curve: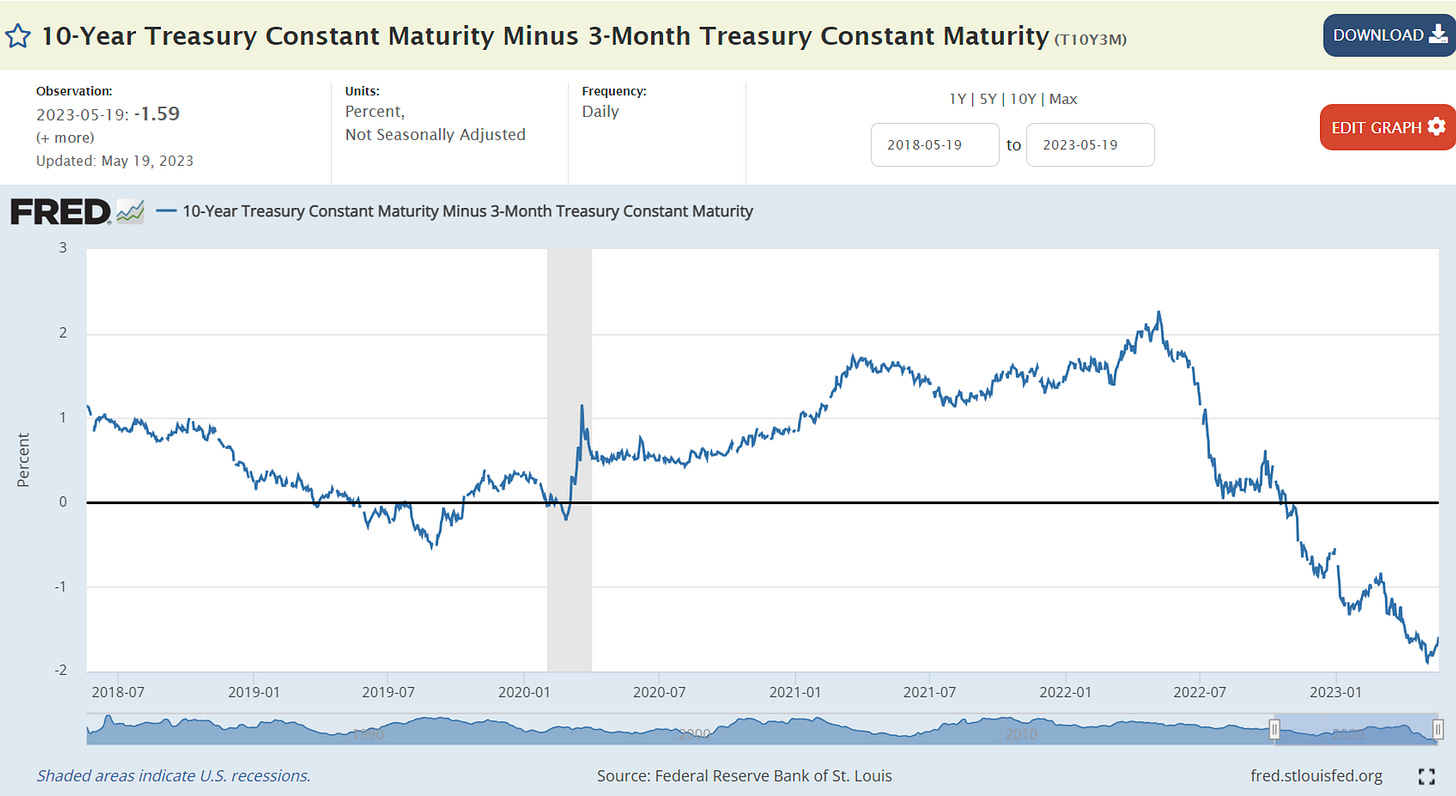 Now let's zoom out further…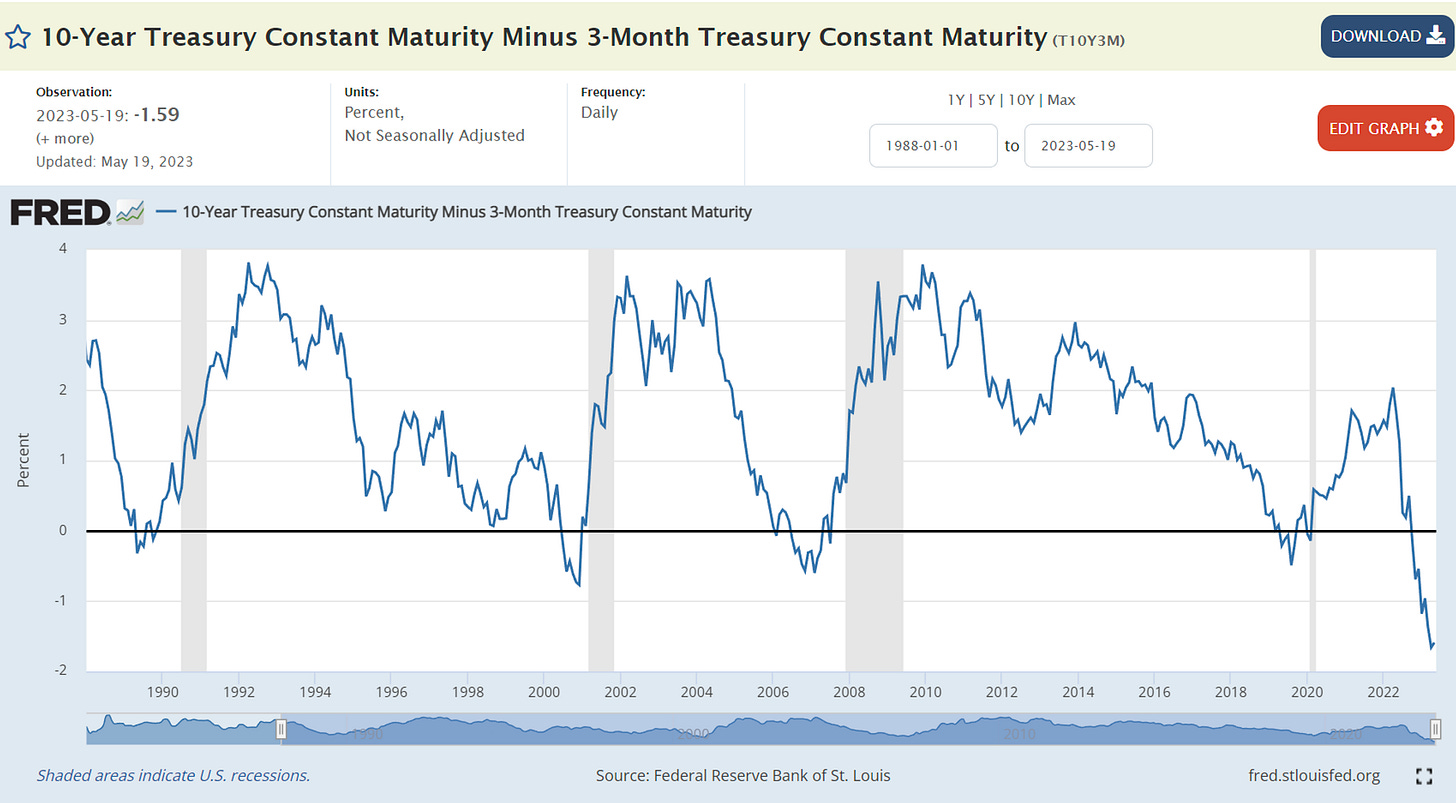 On Twitter