Walked out of an interview straight into what I soon realised was the welcome home parade for our remarkable Olympic team. The swim squad naturally received a rousing reception. The volleyball players are frigging giants!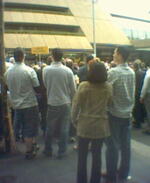 And a few words from ELC (well, I found it amusing):
As i reached Martin Place i noticed Sally Robbins, mentally exhausted from the walk uphill from Circular Quay, collapse in a heap only a few hundred metres from Town Hall. Other than that my day has been fairly uneventful.